Chenille Upholstery Fabric
Chenille upholstery fabric is the most popular of all upholstery materials. This is due to the practical and visually appealling nature of the cloth: chenille is soft, warm, lustrous in appearance, and is very hard wearing. Chenille is an ideal choice for furniture and that's why, at Loome, we have hundreds for you to choose from.
To view our chenille upholstery fabric simply click on the images to the right --->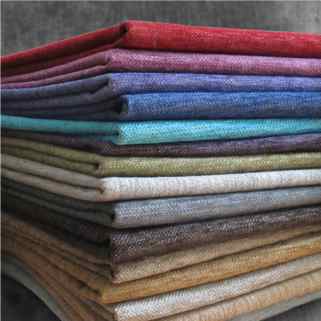 About Chenille Upholstery Fabric
Chenille upholstery fabric is named after the French word for caterpillar, due to the similarlity between the fuzzy appearance of both. The fibre is made by placing twisting short lengths of "pile" yarn between two "core yarns". The resulting pile stands at right angles to the core yarns and gives the characteristic soft fuzzy feel. Chenille is often described as iridescent, and has a different shade according to the direction from which the light is shining and which way around the fabric is held. Because of this, it is important to make sure that chenille is applied to furniture the same way for each piece of fabric.
The durable and resiliant nature of chenille makes it an ideal choice for family furniture, or for sofas which are likely to have quite a bit of wear from children or just quite regular use. Chenille upholstery will be hard wearing and last for many years with only minimal care required, such as regular vacuuming or brushing with a stiff brush.
At Loome we love Chenille - it is has the cosiest and softest feel of all fabrics and is ideal for domestic and contract upholstery.