To the right are some of our durable and stylish pet friendly fabrics. To see more detail about any fabric simply click on the picture.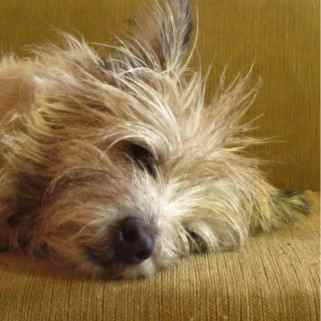 Pets love sofas and no matter how hard we try our cats and dogs find a way onto our furniture from time to time. Unfortunately there are no pet proof fabrics, but some fabrics are more pet friendly than others
To choose the ideal pet friendly fabric there are four things to think about:
Hairs. Pet hair tends to stick more easily to the napped surface of chenille and velvet fabrics than to flat weaves and damasks. On the other hand chenille and velvet fabrics are easy to clean by using a brush attachment on a vacuum cleaner. Any fur or hair residues which remain after vacuuming can be wiped off or removed using a sticky tape roller (available from most good hardware stores).
Scratching. Some pets, especially cats, have a tendency to scratch furniture and, for these pets, consideration should be given to the general toughness of the fabric and whether it will snag on their claws. If snagging is thought to be a possible problem then it may be prudent to avoid flat weaves and damasks and opt for a chenille or velvet both of which have a cut pile which is more difficult to snag.
Muddy Paws. Ideally pet friendly fabric should be wipeable and preferably washable. If you are buying fabric for upholstery, and you are not making up loose covers, it may be worthwhile purchasing an extra length and have a couple of throws made up from the matching material - these can then be washed and the fabric underneath should be relatively safe from pet wear.
Colour. Ideally fabrics that pets sit on should not be light colours, as these will show any mud or dust more easily.
Overall, our view is that the most pet friendly fabrics are washable polyester chenilles and velvets, or tightly-woven flat weaves.