Wool Upholstery Fabric
Click the images on the right to see our wool fabrics for upholstery.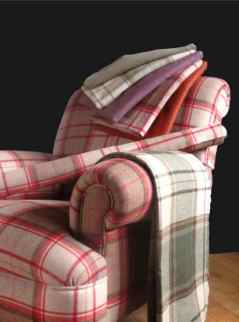 At Loome we love the natural feel of wool and agree that it makes terrific upholstery cloth. The softness of wool upholstery fabric is unbeatable from a comfort perspective, and wool's inherent elasticity allows it to be drawn around corners and pleats in a manner that man-made fibres cannot replicate. Wool is warm to the touch, and yet very durable as a seating material.
When it comes to sofas and easy chairs, nothing beats the natural feel and look of wool. Upholstery has to look good for a long time, with lots of wear, so its comforting to know that wool has excellent durability and, because it does not have a 'nap' as many synthetic fibres do, does not suffer from the problems of 'pile pressure' or loss of pile as the fabric gets older. When you use wool for upholstery you opt for a cloth which will look as good in years to come as it does today.