Wool Fabric
Wool is one of the oldest fabric types used by humans, and is as good today as it has always been.
To the right you can see some of our lovely wools including some distinctive plaid wool fabric. Click on individual pictures to go to the product details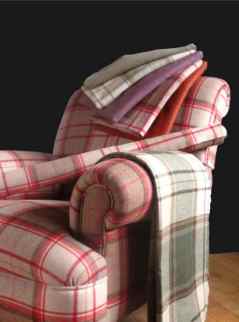 You may not be surprised to hear that at Loome we love wool fabric. Wool has been used for upholstery and curtains for hundreds of years. Its key advantage is that it provides a beautiful hardwearing yet inherently soft cloth.
Wool Upholstery Fabric
Wool and wool blends are perfectly suited to upholstery as they have inherent elasticity which makes them ideal for sofa and chair coverings, allowing curves and angles to be upholstered with the cleanest of lines.
Wool is naturally flame retardant and so does not have to be treated with chemicals.
Wool has an unmistakable softness and there is no fabric as 'cosy' as wool when it comes to sofas and cushions. Yet wool does not get overly warm because it is breathable.
Wool Curtain Fabric
Wool is ideal for curtain fabric as it has a relaxed and natural drape. Because wool is naturally flame retardant, it is ideal for curtains as it requires no further treatments.
Choose wool and you are choosing a fabric which is highly sustainable with a low environmental footprint, so you can relax knowing that you are doing your bit for nature.
Click here to see our Wool Upholstery Fabric
Click here to see our Wool Curtain Fabric
We are often asked which of our fabrics is the most versatile and most suitable for upholstery. The answer is almost certainly wool. Wool is tremendously hard-wearing, uniquely soft to the touch, elegant in appearance, and will last a life time. These qualities are hard to match in synthetic materials. If we had to choose one and only one type of upholstery fabric, it would be wool.